HEY WARRIOR! YOU DON't have to spend the holidays isolated!
ONE NIGHT IN A FIELD WITH GREAT FRIENDS ANd BIG FIREWORKS...
WHAT A GREAT WAY TO KICK OFF THE HOLIDAYS TOGETHER!
For the first time ever, EveryWarrior.org brings you our WarriorFest event, exclusively for our Warriors currently serving in our military and their families. A evening of just being together, complete with atmosphere, music, fun, food, and you, all headlined by a HUGE professional fireworks show.
HEY WARRIOR! THIS IS EXCLUSIVELY FOR YOU & YOUR FAMILY!
Why are we doing this?

Well, as you may know, our organization began out of our flagship annual November event known as "The Warrior's Thanksgiving Feast." Due to COVID, The Feast was unable to happen this year.

Knowing the value of gathering together, especially after isolation has run rampant, we decided to find the biggest and safest field we could, and light up the night sky as a way of both bringing our Warriors out and together (safely, of course) and as a way of showing a small glimpse of our love and appreciation for you.

We see the sacrifice you have made and the adapting you have done as you have dealt with the pandemic, and we want to ensure that you know that while the fight rages on, you are not forgotten about...especially right here at Thanksgiving and Christmas.

We, along with your leadership and community, are for you!
It's happening:
Sunday night, November 22, 2020
Gates Open - 4:00pm
Fireworks - 6:15pm

Located at:
The Outdoor Field at Riverpark
3232 East 70th St. Shreveport, LA 71105
At the foot of the Jimmie Davis Bridge IN SHREVEPORT.,
corner of Clyde Fant Parkway and EAST 70th Street.
Thanks to the generosity of our friends at Riverpark Church (aka The Park), we are able to host this event completely outdoors as a way to keep COVID mitigation at the forefront. This partnership also comes with greater knowledge of their operations and cleanliness as a way to ensure the safest and cleanest event possible.
Warriors and their families will be able to enjoy the evening picnic style inside The Park, or you can tailgate at their vehicle in the parking lot. There is a large grass field where you can claim your own area, bring your own food and snacks to eat, bring some lawn chairs, some games, corn hole, frisbees, a football, or whatever else you want, and enjoy the evening.

We will have:
Music & Fun, Relaxing Atmosphere
Food Trucks (available for purchase)
Plenty of space to spread out
A HUGE professional fireworks show
Security

You can bring:
Food and snacks
Friends & Family
Lawn chairs and blankets
Games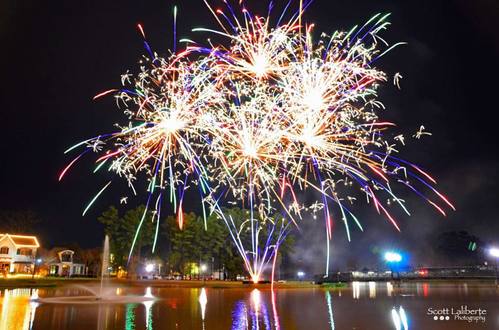 SECURITY:
As with all of our events, because this is exclusively for service members & their families, attendees will be required to show current military ID to get into the parking lot of "The Park." (One ID per family.) For spouses of deployed service members, Dependent ID will be accepted.
Shreveport Police will be present at the event.
SAFETY:

All current 2nd Bomb Wing COVID-19 Mitigation Requirements will be adhered to.
Face coverings are required where social distancing can not be obtained.
Families are encouraged to remain together.
Hand sanitizer will be available.
Capacity is limited.
UNSURE ABOUT GATHERING TOGETHER?
That's okay.
You can stay in your car in the parking area, or, while the best viewing area will be The Park, the fireworks will be viewable from anywhere near/around The Park.
Please understand that we can not guarantee anything for you unless you are inside the gates of the event at The Park.
Registration is required for this event so that we can ensure a safe, military only event. Space is limited. We will close registration when capacity is reached.
WARRIORFEST IS ALSO CO-SPONSORED BY THE BARKSDALE AFB CHAPEL
AND MADE POSSIBLE BECAUSE OF THE GENEROSITY OF RIVERPARK.
To some, Riverpark is simply known as "The Park." To locals, it's the old Hamel's Amusement Park (and yes, it was a fun place to go back in the day and the Bumper Cars from the 80s are still on site!) Today, it's a church campus that allows outside organizations and friends to use their property.
For us, it's a place where we can safely gather together, provide security, have plenty of room for fun, have the perfect fireworks viewing area from anywhere in and around the park, and a great place to enjoy the night. We are grateful for their generosity and support.