"The best way to find yourself is to lose yourself in the service of others." -Mahatma Gandhi
Our Every Warrior Global Days of Good
all day Each Friday
THIS SPRING & SUMMER
Looking to impact the world around you?
Wanting to find out who you truly are?
Then our Do Good Fridays ways that you can!
We are asking you to join us from wherever you may be in an effort to overwhelm this world with goodness. Each Friday, you, along with Warriors around the world, can join together with everything from seemingly small, random acts of kindness to large scale serve projects, and anything in between.
We believe this will not only impact the world around us, but also the world inside of us. So our commitment to you is to help you, if needed, discover where you can do good, and then help you as you reflect on how your efforts can help you grow.
Need help? Email us at
yourfamily@everywarrior.org
.
"Life's most urgent question: What are you doing for others?" –Martin Luther King Jr.
"Never underestimate the power of a small group of committed people to change the world. In fact, it is the only thing that ever has." - Margaret Mead
// THINK // Think of some good things you can do! Need help? There's an Intentional Act above and a long list below.
// DO GOOD // Look for random ways you can spread the goodness.
// REFLECT // When it's all said and done, spend some time reflecting on the good that was done. If you want to, tell us about your experience by emailing us at yourfamily@everywarrior.org.
You do not have to participate each week.
Just pick your Friday, whether it's one Friday or every Friday, or somewhere in between, and get out there and Do Good!
You never know, your good MAY JUST BE THE CATALYST FOR THE CHANGE YOU WANT TO SEE IN THE WORLD...AND IN YOURSELF.
"Start by doing what's necessary; then do what's possible; and suddenly you are doing the impossible." -St. Francis of Assisi
121 RANDOM IDEAS OF SOME GOOD YOU CAN DO
Be inspired! Get creative! Do your thing!
- No pictures. No credit. Just good! -
Call a friend you haven't talked to recently.

Help a friend in need.

Volunteer some time at an organization of your choice.

Buy a gift for your mother or grandmother – just because.

Write a thank-you note to someone who won't expect it.

Find items in your house and donate them to a charitable organization.

Plant a tree.

Think of something you do well, and use your talent to benefit others.

Teach an elderly family member to use a computer to surf the Internet or write e-mails.

Organize a family meal and appreciate being together.

Collect stuffed animals or toys from family members, friends, and neighbors and donate them to an organization that helps children.

When you are outside, stop and look around you. Take time to appreciate nature.

Find a piece of winter clothing that you haven't worn all season, and donate it to a charity.

Donate a working cell phone.

Offer to cook or clean for the family of someone who has recently given birth.

Write down at least three things you should be thankful for in your life.

Make a donation to a charity.

Plant a vegetable garden, and donate the vegetables to a food pantry.

Collect duffle bags, overnight bags, and suitcases from friends and donate them to organizations that send them to children in foster care.

Add yourself to a bone marrow registry and take part in a bone marrow drive.

Pick up trash.

Donate blood.

Begin making one change in yourself that will make you a better person.

Apologize for something you've done – whether big or small.

Take food to a neighbor.

Donate school supplies to children in poverty.

Collect toiletries, and donate them to places that would benefit from them.

Treat a friend to dinner.

Return that phone call you have been putting off.

Give 10 percent of your salary away.

Volunteer at a homeless shelter.

Recycle.

Encourage your coworkers to bring in financial donations or non-perishable items for a worthy cause.

Adopt a shelter animal.

Make a double-batch of something delicious and freezable and give it to an older neighbor.

Ask someone about their day.

Hold the door open for a stranger.

When you're out buying food, purchase an extra item to donate to a food pantry or to a homeless person.

Write a letter to someone you know who could use some extra attention. A real letter. With paper!

Offer to pick up groceries for your neighbor.

Spend quality time with your kids.

Bring a gift to someone you know who is having a tough day.

Write a note of encouragement and support for new parents.

Go somewhere and teach your kids something about that place.

Ask someone "how are you doing" and really listen. Sit down. No multitasking.

Pay the bill for the person behind you in line at the drive through.

Each time you get a new article of clothing, give one away.

Put your shopping cart away.

Leave a book in a Little Free Library.

Make "care kits" to hand out to the homeless. Simply fill resealable plastic bags with clean socks, a granola bar or other snacks, lip balm, hygiene items and perhaps gloves or sunscreen, depending on the weather.

Befriend the lonely person.

Introduce yourself to your neighbors.

Compliment a stranger.

Let the person who seems rushed cut in front of you.

Hold your tongue – Pause before speaking or writing when you are mad, agitated or doubtful.

Be empathetic – Really try to put yourself in the other person's shoes.

Be thoughtful – Did your co-worker have a bad day today? Bring her a coffee tomorrow morning.

Give your boxes to someone who is moving.

Be thankful.

Be encouraging.

Help someone move

Say "Thank you", a lot – Everyone works hard.

Call your parents and tell them you love them

Let your partner watch their show – And don't roll your eyes or huff and puff about it

Don't be annoying – Make a conscious effort to avoid doing the things you know annoy your spouse (or roommates)

Send your friend an encouraging text.

Volunteer at a department of corrections or juvenile hall

If you have a skill and you know someone who has expressed an interest in what you do offer to teach them what you know.

Give freely – Go through your things and give freely to those in need

Offer to get groceries for your friend or relative who has a broken leg or other mobility problem

Make extra copies of photos and send them to the people who are in the images

Offer to help your friend unpack

Call everyone you know and tell them you love them

Help someone whose car has broken down

Reach out to a person who has made a difference in your life

Send a care package to a Warrior

Check on the spouse of a deployed Warrior.

Listen when no one else wants to

Be patient

Try to find goodness in the person you don't like

Do you know that your partner hates doing the dishes but you don't really mind doing them? Do them.

Don't nag – Even if you really, really, really want to

Be kind to yourself – Make peace with your past mistakes. Use that knowledge to help others who might be going through the same thing.

Let it go

Be someone's cheerleader

Clean up your neighbors yard

Notice a kid being well-behaved? – Tell their parents how good they are while the kid is standing there.

Compliment people in front of others!

Appreciate your boss, subordinates, and co-workers.

Stand up for the underdog.

Come to the rescue of someone in need

Smile easily and laugh.

Share – Even if you don't really want to

Do the task no one else wants to do

Fill up the gas tank and/or wash the car for your partner and then leave candy on the dashboard for them to find in the morning before work.

Tell your partner how amazing they are

Tip generously

Smile at people

Help lost people – See someone wandering around lost? Help them out.

Help that stressed parent by offering to babysit

Skype or FaceTime with the family and friends your separated from. People love to see your face!

Pick up the tab – Go up to the waiter and pay when no one is watching (of course only if you're in the financial situation to do so)

Avoid gossip – No need to spread any negativity

Be understanding – Assume the best in others.

Spread the word – People who work for themselves need word of mouth referrals more than anyone else.

Hang out with the person who just moved to town

Drop quarters on the sidewalk for people to find

Give an understanding smile to the parents with the grumpy or noisy kids

Make amends for the wrongs you have done

Respect your spouse and don't make decisions without their input

Let someone else have their way without putting up a fight about it

Don't leave people hanging

Send a surprise book to someone from an online retailer

Listen to someone's life story – Yes, the whole thing

Keep your bad attitude to yourself

Be happy for others

Don't butt-in or give advice when you're not asked for it.

Mind your own business

Give a glowing recommendation

Call your in-laws

Have you discovered something that has changed your life? – Share what you know and inspire others to change their lives too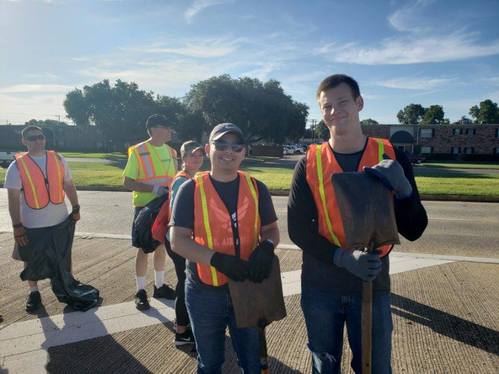 "No act of kindness, however small, is ever wasted." -Aesop
WHOEVER YOU ARE...
WHATEVER YOU DO...
WHEREVER YOU GO...
WHENEVER YOU CAN...
INFLUENCE YOUR WORLD!